In the meet the team series, we introduce a member of the research group every week to give an impression beyond the scientific work. For this purpose, our student assistant Philippe Sander asked us a few questions.
Today in the interview: Laura Mark. She is an urban planner and works on the effect of participation on political and planning decisions. More information on Laura's research can be found here.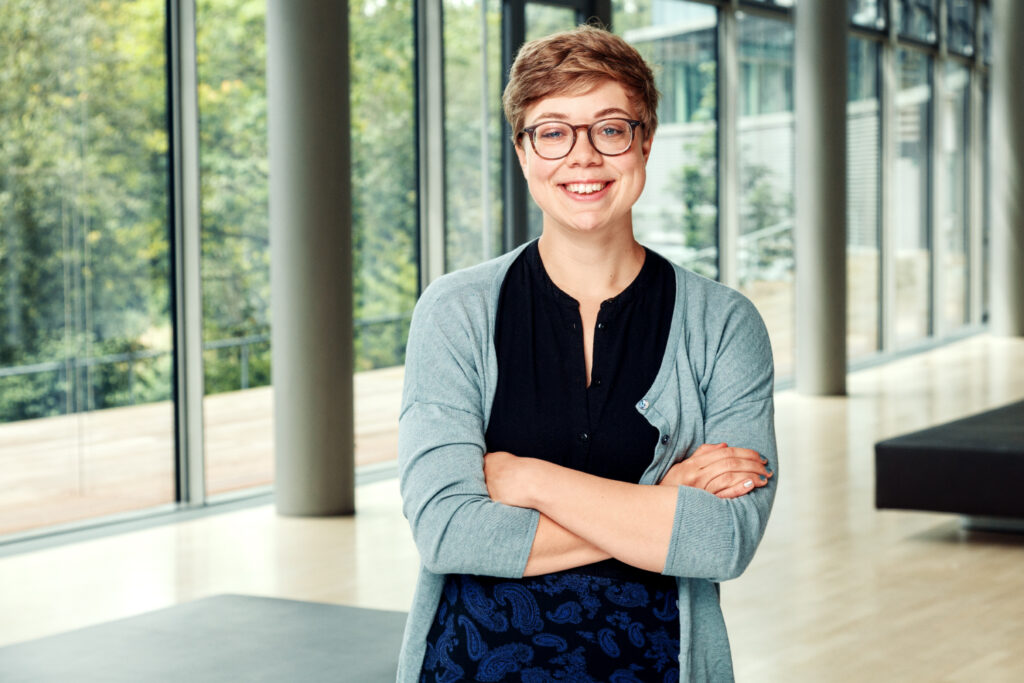 What inspired you to pursue a career in your research field, and how did you get started in your field?
I first studied urban and regional planning. What I found exciting about it was that it unites different subject areas, such as ecology and social and cultural aspects. The task then is to take all these different aspects into account at the same time. After graduating, I worked in an engineering office in the field of transportation and realized that it was a little too technical and focused on numbers for me and that I was missing the social aspect. So now I've ended up in this intersection between planning science and social science.
Can you describe your current research project and what you hope to achieve with it? What do you personally find the most interesting about it?
I'm currently looking at the impact of public participation on planning projects for sustainable mobility. What interests me most about it is that it is a topic of current interest. Participation is widely discussed at the moment, and although research on it is still quite thin, the substantive effect on a decision is often taken for granted. Some parties also have little interest in taking a closer look.
How do you go about your research? What methods, theories or frameworks do you use?
I am doing qualitative research and look at two case studies in particular. My approach is modelled on process tracing. Unlike the various studies that have been done, it's a very detailed approach and takes a lot of different influences on effect into focus. I work mainly with interviews and media analysis as well as participatory observation and partly with project survey data.
What are some of the biggest challenges you face in your work and how do you overcome them?
The biggest challenge is that the planning processes do not work in practice as they do in theory. For me, it's important to do in-process research, because I mainly look at the substantive effect. However, some of the planning processes have been severely delayed, and not only because of Corona. Therefore, realistic time planning is definitely a challenge. Thus, schedules must always be flexibly adapted to the progress of the project and the situation in the case studies.
How do you stay on top of the latest trends and developments in your field?
I am connected with other researchers on Twitter, and I am also at conferences and in a working group of the Academy for Territorial Development in the Leibniz Association (ARL) with a focus on mobility and social participation.
As my field is not only about science, and since a lot is happening in practice right now – the topic of the transport transition is very much in discussion regarding climate change, etc. – I am of course also staying informed through newspapers and podcasts. There are also often free webinars or workshops from various ('practitioner') organisations where you can get further training.
How do you collaborate with other researchers or experts in your field to improve your projects?
The working group I mentioned before is definitely important because although it mainly discusses mobility as a topic, I can also contribute with the aspect of participation. I also participate in various interdisciplinary colloquia and regularly present my work. For example, there is one on socio-ecological transformations with different topics. In addition, we work together closely in the research group and, for example, present our results at conferences together.
What impact do you hope your research will have on society or the field?
I hope that my research will contribute to a better understanding of participation processes and perhaps to better planning for the public sector. I also hope that the research about substantive effects of participation will make public authorities consider this issue more closely. In the future I hope that civil society is taken more seriously and there will be more accountability on how the contributions are used.
What are some emerging trends or future directions you see in your research area?
The focus on participation of civil society is becoming stronger in practice and research. The important question is how this participation can be improved and how to deal with conflicts over urgently needed changes, for example in urban space. In addition, the question of how to reach certain groups that traditionally do not participate much.
Trends in the field of mobility are (among many others), on the one hand, technical aspects such as autonomous driving. In addition, a large part of the issue is how knowledge about the mobility transition can now be implemented in practice – the role of the municipalities is particularly relevant here, as they are trying harder to get more leeway to expand the 30 km/h speed limit or to make certain areas car-free.
Can you tell us about an interesting or meaningful experiences you had during your research?
For me, the most interesting thing was the experience that practice is completely different from theory. What I also found surprising is that the different interviewees contradicted each other very strongly, because their perceptions of the planning process were very different. In the minutes, for example from committee meetings, things looked completely different again; these are all truths and perspectives that I can then use to approach the process.
What advice do you have for students and aspiring scientists just starting out in their careers?
I think you shouldn't plan too much but go by what interests you. You should have confidence that everything will come together in the end to form something coherent.
Lastly, can you tell us a little about yourself outside of your work? What hobbies or interests do you pursue in your spare time, and how do they complement your research?
I really enjoy being outside, I like hiking and biking; I do martial arts and yoga in my spare time. It definitely complements my research in the sense that I can switch off my head. It's something completely different, not as intellectual. Sometimes it's stressful, though, because every now and then when I'm riding my bike, I think to myself, "who approved that, that's way too narrow, that doesn't even comply with the standard width, who would do something like that!".